Felix Gold Limited (ASX.FXG) – Investor Overview
Felix Gold (ASX: FXG) holds a 392km² tenement in the prolific Fairbanks gold district in Alaska, USA, which has produced over 16 million ounces of gold and is home to multiple 5-10 million ounce deposits. Felix neighbours the Fort Knox mine whose mill is only operating at 55% capacity. The owners are actively engaging in M&A – signalling that Felix may not need to build their own mill and are a potential takeover opportunity.
Following a major discovery in 2022, Felix is targeting a Maiden Mineral Resource Estimate (MRE) for its NW Array target, beginning in the Southern Zone, in Q4 of this year. Recent drilling intercepted 100.5m @ 1.14g/t gold from 21.3m, including 47m @ 1.7g/t gold from 38.1m.
Join CEO Anthony Reilly this Wednesday 13th September at 12pm (AEST) for a live investor briefing. Hear more on Felix Gold's 1.1Moz – 3.6Moz gold resource with potential for low capex production. Click here to book your spot.
Who is Felix Gold:
Felix has three project areas with multiple targets – Treasure Creek, North East Fairbanks, and Grant Ester – in the prolific Fairbanks Gold District in Alaska, USA.
392km2 tenement package with 40km of strike in an area which has produced over 16Moz gold and is home to multiple 5-10Moz+ deposits.
The region's tier-1 deposits are typically shallow, bulk tonnage and low-grade gold resources. The region is full of infrastructure, skilled workers, has low-cost power and year-round access to drilling and mining.
Felix neighbours the Fort Knox Mine, owned by the Kinross Gold Corporation (NYSE: KGC), which produced 291koz gold equivalent in 2022. The mine has a 16Mtpa mill that is operating significantly under capacity and receives a head grade of around 0.7g/t gold.
Proximity to Fort Knox opens the potential that Felix will not need to build a mill and makes them a potential takeover opportunity. With an ore-hungry mill, Kinross Gold Corporation (NYSE: KGC) is actively engaging in M&A to extend the mine life of their Fort Knox mine.
Felix recently discovered material intersections of one of the world's most elusive minerals – high-grade Stibnite, a primary Antimony material – representing a significant development and by-product bonus.
The prospect of antimony is especially noteworthy because the Scrafford Shear Antimony Mine in Treasure Creek was historically the second largest antimony mine in Alaska, with grades of up to 58% antimony.
Felix Gold has secured other brownfield projects, including the Grant Mine with inferred JORC of 364koz @ 1.95g/t Au which includes an underground resource of 136koz @ 6.2g/t Au.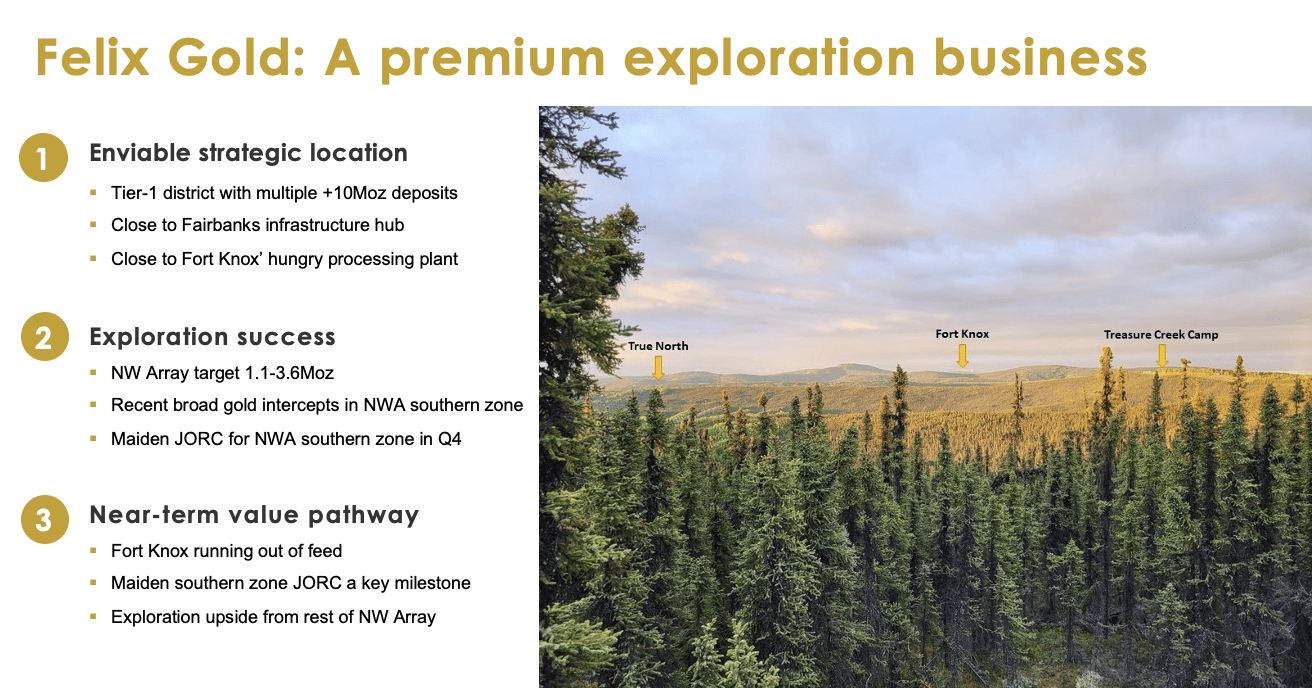 Image: Felix Gold.
Treasure Creek – flagship project with major discovery potential:
The NW Array is 19km away from the 20Moz Freegold Ventures Golden Summit Project, of which famed resources investor Eric Sprott owns over 25%.
Major NW Array discovery in 2022 within the flagship Treasure Creek Project, which included 90m @ 1.2g/t Au from 32m, including 60m @ 1.6g/t Au from 42m. Potential to host up to 3.6Moz gold according to the JORC exploration target (ASX release; 14 March 2023).
The company recently completed a 45 hole, 3,500m resource definition drilling program in the NW Array and is targeting a maiden Mineral Resource Estimate in Q4 of this year.
Recent drilling intercepted 100.5m @ 1.14g/t Au from 21.3m, including 47m @ 1.7g/t Au from 38.1m. Another standout noteworthy assay includes 70.1m @ 1.6g/t Au from 6.1m, including 7.6m @ 6.4g/t Au from 21.3m.
The company is now progressing a maiden JORC resource estimate, due in Q4 this year.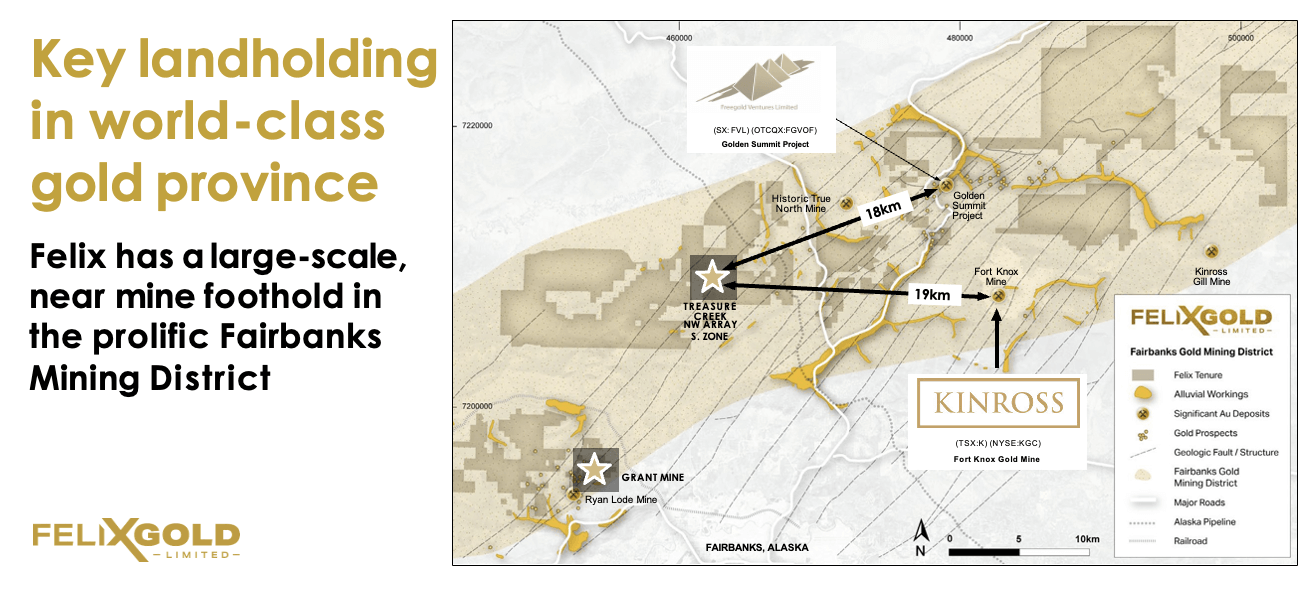 Image: Felix Gold.


Compelling high-grade antimony potential:
Felix has discovered material intersections of high-grade Stibnite – a primary Antimony material – associated with the gold system emerging at NW Array and representing a significant development for Felix.
Felix is excited to continue receiving data that is confirming their hypothesis of a large gold-antimony system in NW Array. Recent drill cores came with 6.1m @ >5% antimony (Sb) from 30.5m as well as 1.5m @ >5% Sb from 53.3m.
Antimony is one of the world's most elusive critical minerals and is crucial for US economic and national security – a position also held by the likes of cobalt, uranium and rare earths.
The confirmation of Antimony in the gold system provides a potential by-product bonus to the gold resource.
Antimony is used in the electronics industry and all manner of military applications, including armour piercing bullets, ammunition primers, night vision goggles, infrared sensors, laser sighting, explosive formulations, nuclear weapons, flares, and communication equipment.
China was the leading global antimony producer in 2021, accounting for approximately 55% of global mine production, followed by Russia at 23% and Tajikistan at 12%.
The concern of 100% import reliance of the US from foreign countries, of which China and Russia are the largest producers, has led the US Department of Defence to take drastic actions such as stockpiling and allocating US$24.8 million to an old antimony mine in Idaho to accelerate its environmental and engineering studies and finalise an investment decision. The urgent need for supply and processing diversification has been repeatedly highlighted.
Antimony's scarcity, limited supply, and strategic necessity make it an compelling opportunity for Felix Gold.
Felix Gold's other Alaskan Project – Grant Mine:
Inferred JORC mineral resource of 364koz @ 1.95g/t Au, including underground resource of 136koz @ 6.2g/t Au.
Additional exploration target of 5.6Mt – 6.6Mt @ 1.9g/t Au – 2.1g/t Au for 338koz – 545koz.
Extensional drilling targets outlined from identified high-grade gold zones, with intercepts including:

18m @ 11g/t Au
6m @ 17g/t Au
6m @ 13g/t Au
Experienced and capable management team:
Anthony Reilly, Felix Gold MD and CEO, was previously CEO of Develop Global Ltd (ASX: DVP) from 2019-2021
The board includes two advisory board members of the Mine Discovery Fund Pty Ltd which founded FXG and currently holds around 20% equity position.
The MDF advisory board is responsible for some of the biggest discoveries in the world, with subsequent planned and actual production exceeding $100 billion. This includes the US$3.8 billion NPV Arrow Uranium Deposit, the 1.5Bt @ 1.5% Cu, 0.04% Mo Resolution Deposit, and the Century Deposit – which produced over US$15 billion of commodities during its 16 year mine life.
Felix Gold (ASX: FXG)
Live Investor Briefing
Wednesday 13th September at 12pm (AEST)
Please join Felix Gold Managing Director and CEO Anthony Reilly for an investor briefing on Felix Gold's position as a gold explorer with a multi-million ounce exploration target in an ideal strategic location.
In this session, Anthony will discuss:
The exploration success the team has delivered so far, with drilling results from the NW Array showing encouraging gold mineralisation.
Their unique position next door to an ore-hungry mill which provides potential for de-risked and accelerated gold production.
The potential of Felix's other prospects in this world-class mining region, including the presence of critical mineral antimony which is in high demand.
This is a live and interactive online session, and participants are encouraged to ask questions. Spots are limited, so secure yours today.
Can't make this time, register to receive the replay.
Attend The Session
By clicking submit, I agree to the terms of the Reach Markets Financial Services Guide that includes the Privacy Statement. Reach Corporate provides Corporate Advisory Services, including managing investor communications on behalf of Felix Gold Ltd and may receive fees for its services.
This update is being hosted by Reach Markets Pty Ltd (CAR of AFSL 333297) and Reach does not assume responsibility for the accuracy or completeness of any information provided, and any communication from Reach has been prepared with all reasonable care and may be based on unverified information obtained from sources believed to be reliable. However, except to the extent required by law, Reach including its representatives, employees, agents or contractors are not liable to you for any loss or damage resulting directly or indirectly from access to information and do not accept any responsibility for errors and omissions, nor make any warranty or representation as to the reliability, suitability, confidentiality, accuracy, completeness or timeliness of information as it may change without notice and so Reach has no obligation to keep the information current.
Forward Looking Statements relate to intentions, future acts and events that are only predictions and are subject to risks, uncertainties and assumptions, which are outside the control of Reach. These may include commodity prices, currency fluctuations, economic and financial market conditions in various countries and regions, environmental risks and legislative, fiscal or regulatory developments, political risks, project delay or advancement, approvals and cost estimates. Actual values, results or events may be materially different to those expressed or implied and given these uncertainties, readers are cautioned not to place reliance on Forward Looking Statements. Information and views from third parties may be produced solely for convenience and are not endorsed nor reflective of Reach's position.